MarketWatch reported that "Silver futures rallied Thursday to mark their highest finish in three weeks, following a post by a Reddit user, who suggested executing a "short squeeze" on silver. Any short squeeze in silver paper shorts would be EPIC, a post on the popular WallStreetBets forum said. Why not squeeze $SLV to real physical price, he said, referring to the iShares Silver Trust exchange-traded fund."
This post comes out of the PPT from a Megapro Internship class: Investing in Silver.
Money Printing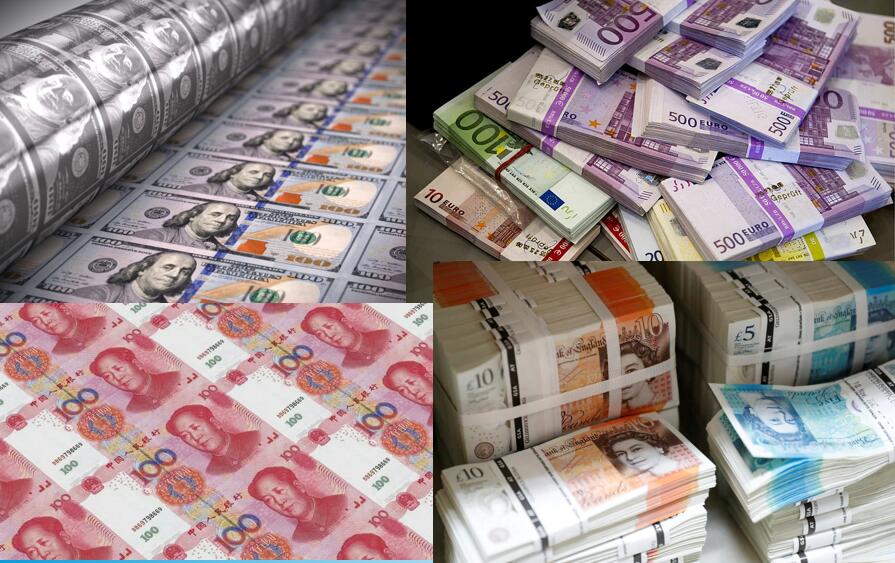 US Money Supply

M1 Money Supply Increased to 6.9 Trillion
M2 Money Supply Increased to nearly 20 Trillion
Macro Theme
Social welfare rises from Europe and US
Government Free Money
Money printing  – > Inflation
We believe the money printing trend most likely will continue.
Investing in Store of Value
Gold
Silver
Bitcoin (It has Policy Risk and Technology Risk)
Gold made historic high
Bitcoin made historic high
Silver: next? (Need to increase 100% to get there)
Gold Monthly Chart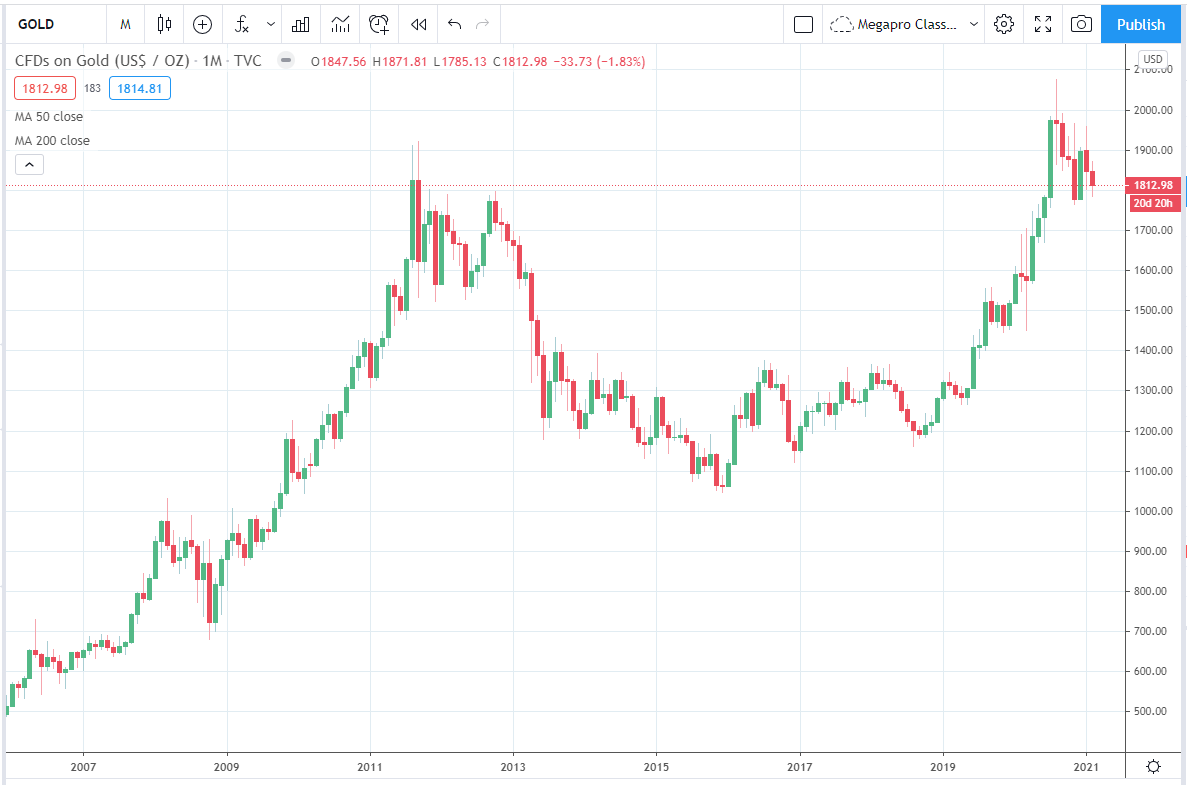 Bitcoin Weekly Chart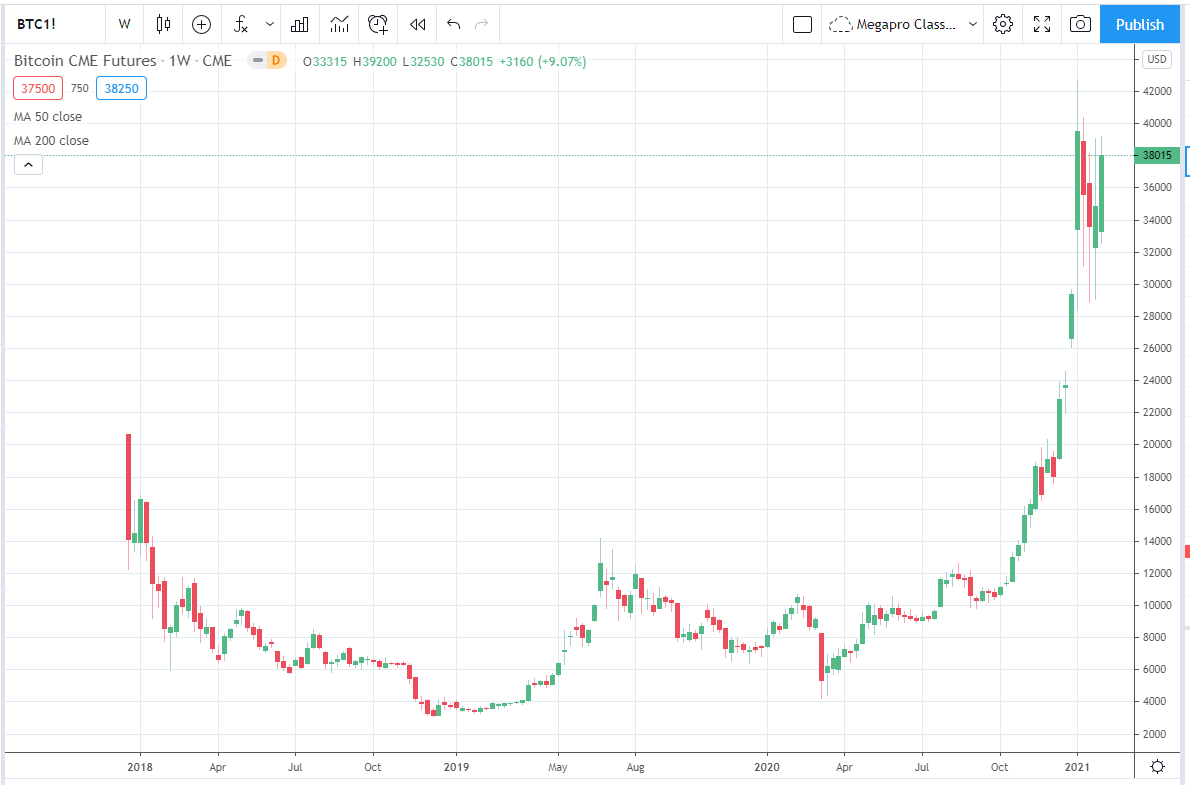 Silver Monthly Chart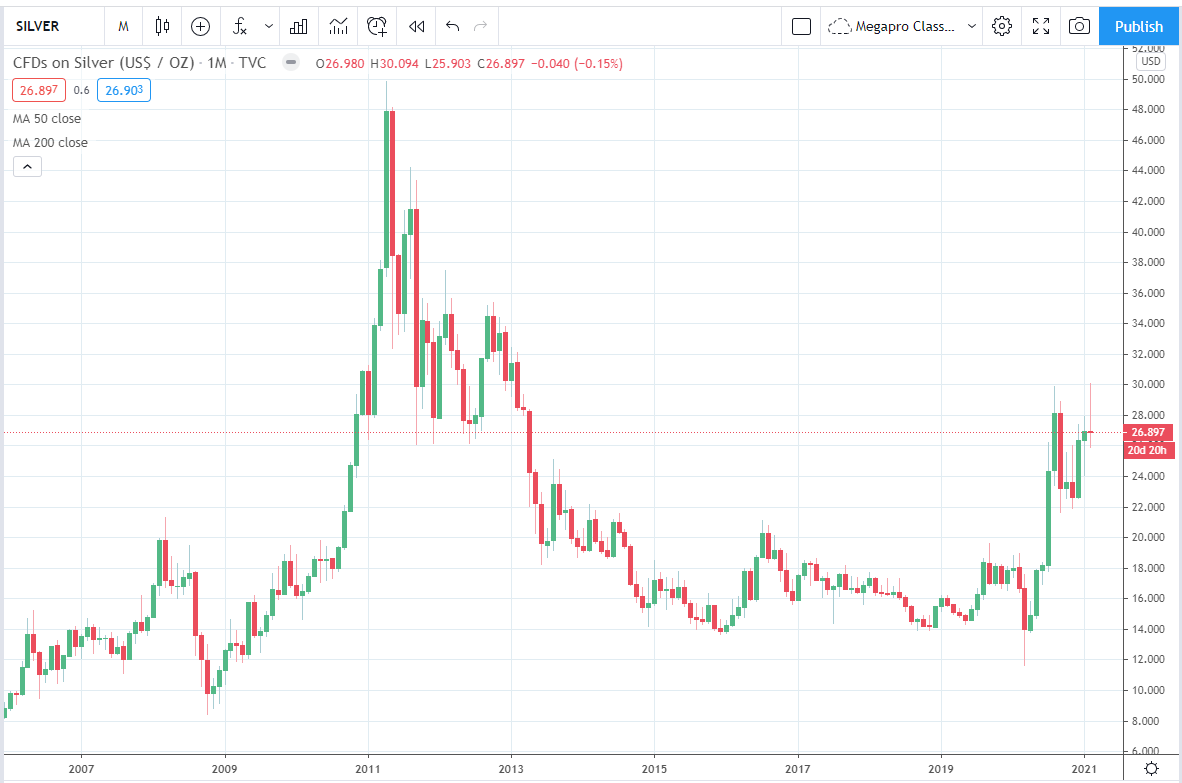 Silver boom: 2008 Financial Crisis              2020 Pandemic –> Silver Boom again?
Future Silver Prices (TA)
Before the 20th century, governments set the ratio as part of their monetary stability policies. For hundreds of years prior to that time, the ratio, often set by governments for purposes of monetary stability, was fairly steady, ranging between 12:1 and 15:1. The Roman Empire officially set the ratio at 12:1, and the U.S. government fixed the ratio at 15:1 with the Coinage Act of 1792.
During the 19th Century, the United States was one of many countries that adopted a bi-metallic standard monetary system, where the value of a country's monetary unit was established by the mint ratio. But the era of the fixed ratio ended in the 20th century as nations moved away from the bi-metallic currency standard and, eventually, off the gold standard entirely. Since then, the prices of gold and silver trade independently of one another in the free market.
* 2007: For the year, the gold-silver ratio averaged 51.
* 1991: When silver hit record lows, the ratio peaked at 100.
* 1980: At the time of the last great surge in gold and silver, the ratio stood at 17.
* End of the 19th Century: The nearly universal fixed ratio of 15 came to a close with the end of the bi-metallic era.
* Roman Empire: The ratio was set at 12.
Gold Current Price: $1800
12:1 Ratio –> Silver Expected Price: $150
15:1 Ratio –> Silver Expected Price: $120
50:1 Ratio –> Silver Expected Price: $36 (current price $26)
Gold Silver Ratios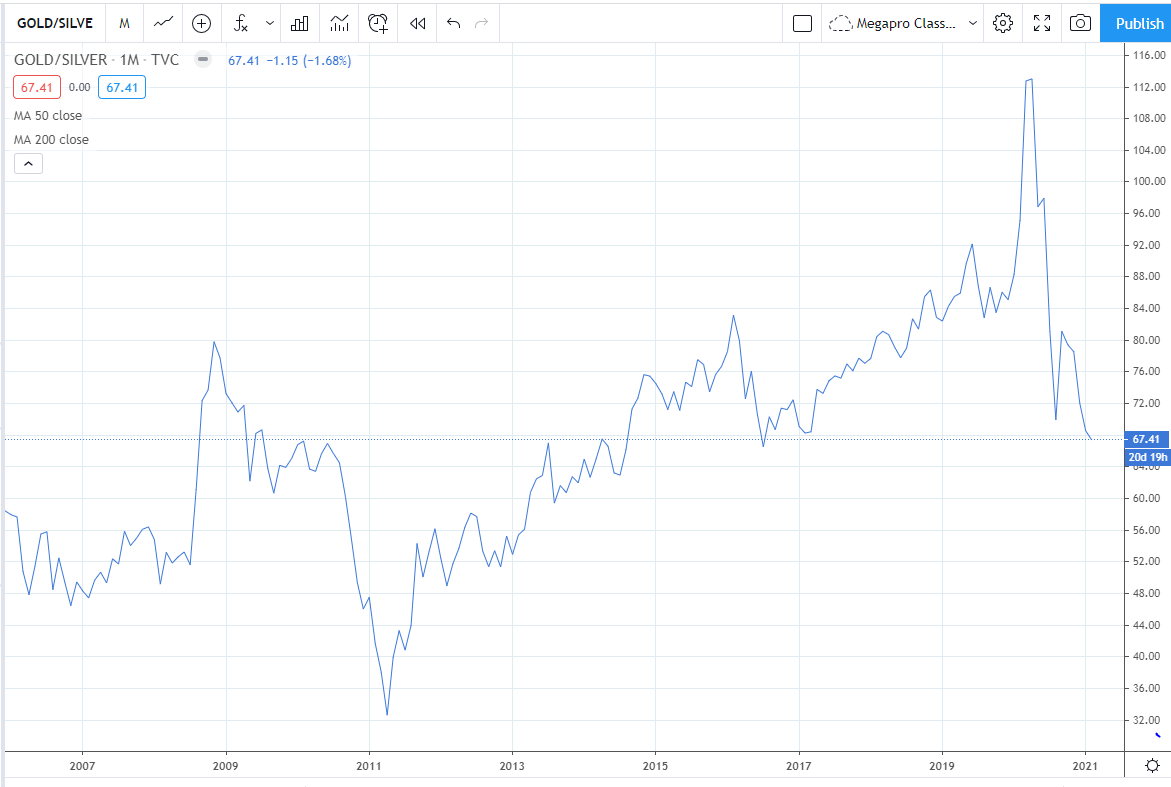 Compare to Gold, Silver is inexpensive.
Bitcoin Silver Ratios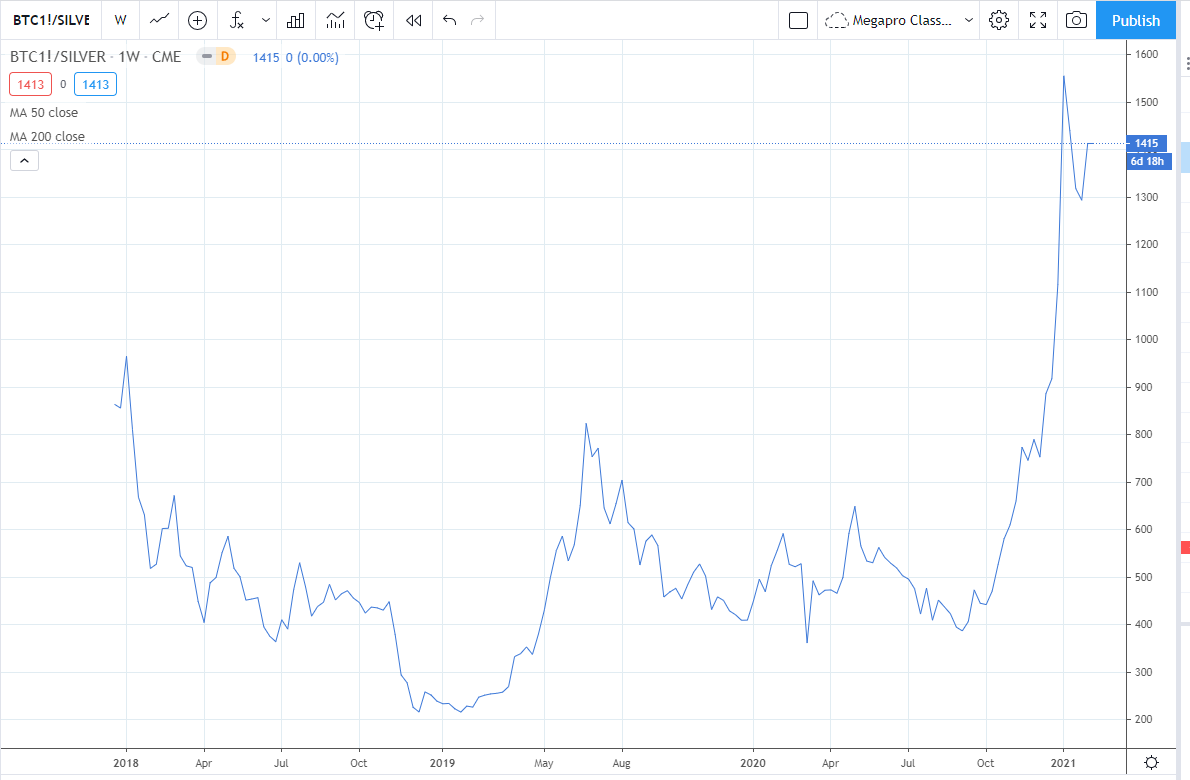 Bitcoin to Silver Ratio is 1400! Bitcoin is quite expensive.
Future Silver Prices (FA)
Price = Supply vs Demand
Silver story:
Supply is declining
Demand is increasing
Silver Supply in Decline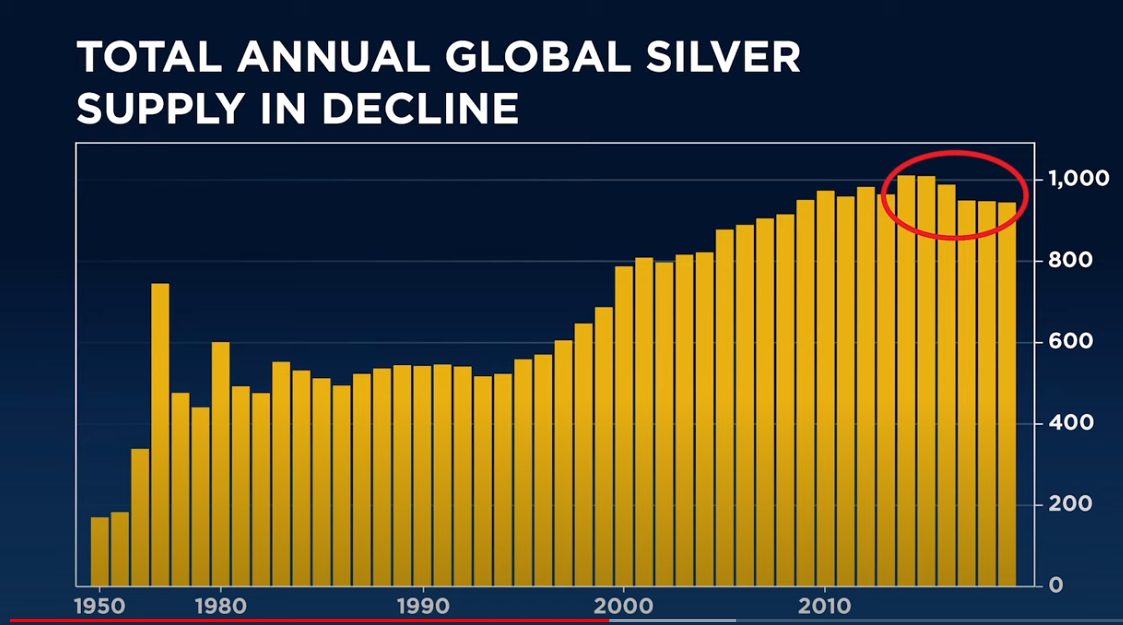 Silver Supply and Demand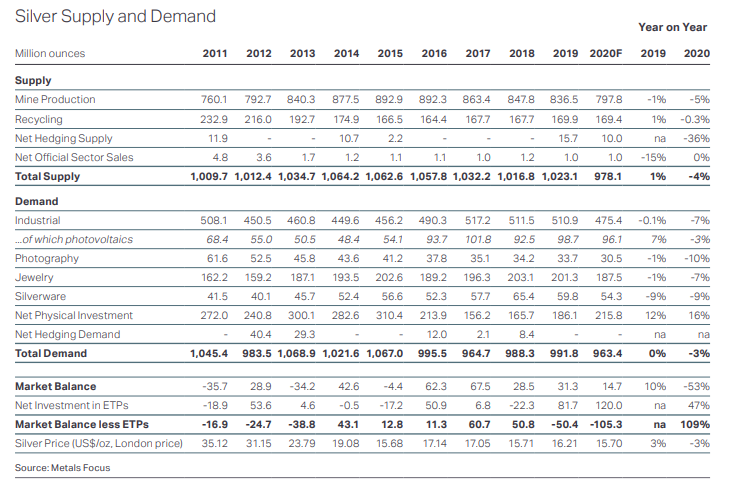 Top 10 Silver Production Countries
1.Mexico
The number-one silver-producing country in the world is Mexico. In 2019, the country produced 6,300 metric tons of metal, an increase of 180 metric tons over the past year. Silver production in Mexico is only expected to increase further.
2. Peru
Peru has steadily grown its silver production levels and has maintained its second-place ranking from 2018 to 2019. The South American nation produced 3,800 metric tons of silver in 2019, down from 4,160 metric tons in 2018 due to protester blockades and some worker strikes. While a small country, Peru is thought to have the world's largest reserves of silver, with 120,000 known metric tons.
3. China
In 2019, China produced 3,600 metric tons of silver. Interestingly, 95% of China's silver production is the byproduct of other mining operations. The country lost its second place to Peru in 2016, and the country produces a little more than double the amount of silver that the U.S. does.
4. Russia
Russia, twice as large as the United States, produced the fourth-largest amount of silver. Russia's silver production remained stable from 2018 to 2019, producing 2,100 metric tons. The total silver deposits of Russia are estimated at 45,000 metric tons.
5. Poland
Poland produced 1,700 metric tons of silver in 2019, up about 15% from 2018. Poland holds a unique place in the silver markets: despite being a small country the size of New Mexico, it has large silver reserves of 100,000 metric tons.
6. Australia
Australia is a country that has held relatively stable silver production levels. The country produced 1,400 metric tons of silver in 2019, although it has the third-largest silver reserves after Peru and Poland. Australia is about 80% of the size of the United States.
7. Chile
Chile produced 1,300 metric tons in 2019, up from 1,370 metric tons in 2018. Chile is comparable in size to Texas and has an estimated 27,000 metric tons of silver reserves.
8. Bolivia
The South American nation of Bolivia ranks ninth on the list, tying with border country Argentina. It produced 1,200 metric tons of silver in 2019, a little more than its 2018 production of 1,190 metric tons. The country has many silver mines, especially the Cerro Rico de Potosí which is estimated to still have large deposits of silver inside. The San Cristobal mine in Bolivia has the third-largest silver deposits of any single mine in the world.
9. Argentina
With silver production at 1,200 metric tons in 2019, Argentina ties with Bolivia for the crowded ninth-spot on this list. Last year saw its silver production increase by 17.6%. The total silver reserves for the country were not determined.
10. United States
Ranked tenth on the list of top silver-producing countries is the United States. In 2019, it produced 980 metric tons of the metal, mainly from three dedicated silver mines and nearly 40 other base and precious metal mining operations around the country. The two top silver-producing states are Alaska and Nevada.
Demands of Silver
Sales from One Retailer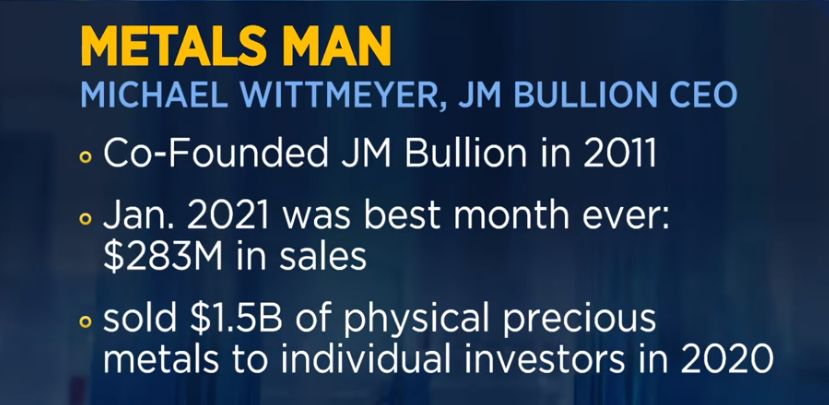 Demand from one ETF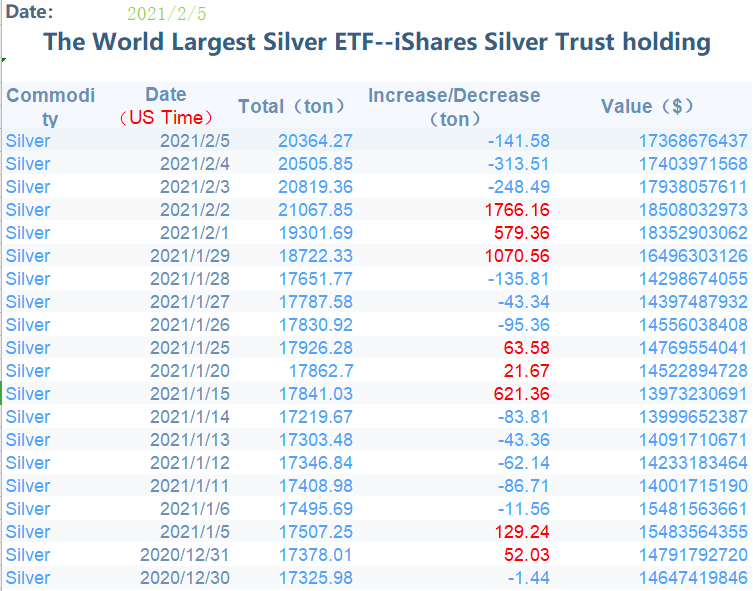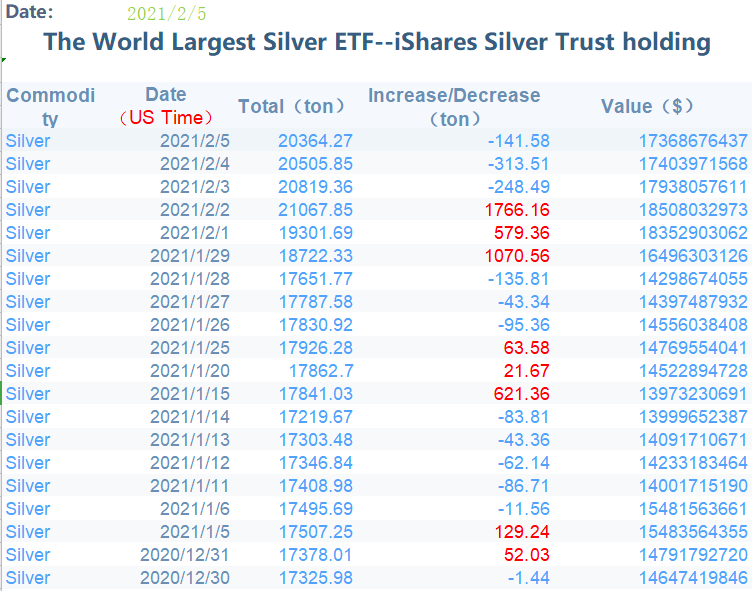 One ETF SLV one-day demand is 1766 tons. World production in 2020: 25000 tons
International Investors
China: Silver used to be Chinese currency in ancient China.
India: just lowered Gold and Silver import taxes
Demands Of Silver
Silver is the most electrically conductive metal in the world and has significant industrial application (solar panels, medical devices, EV cars, smart phones) and acts as a store of value (coins, bars, jewelry).
Non-investment use of Silver is 76% of total 2020 production. This is why we prefer Silver over Gold as a store of value investment.
Short Squeeze in Silver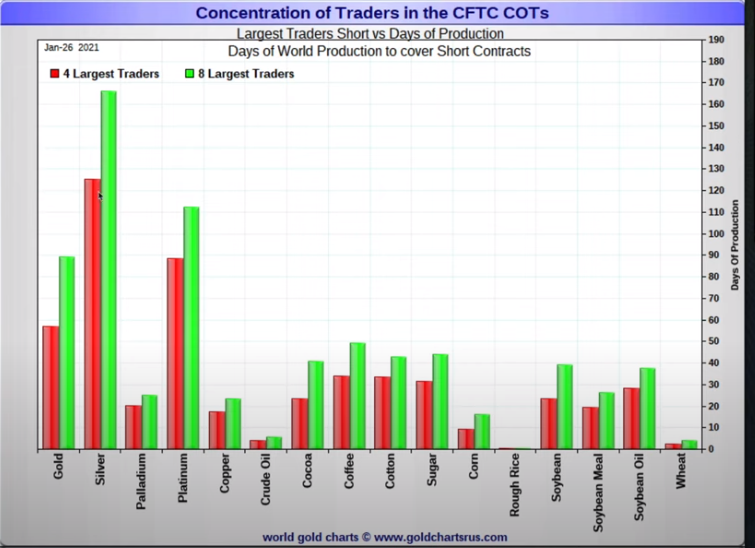 Palladium Short Squeeze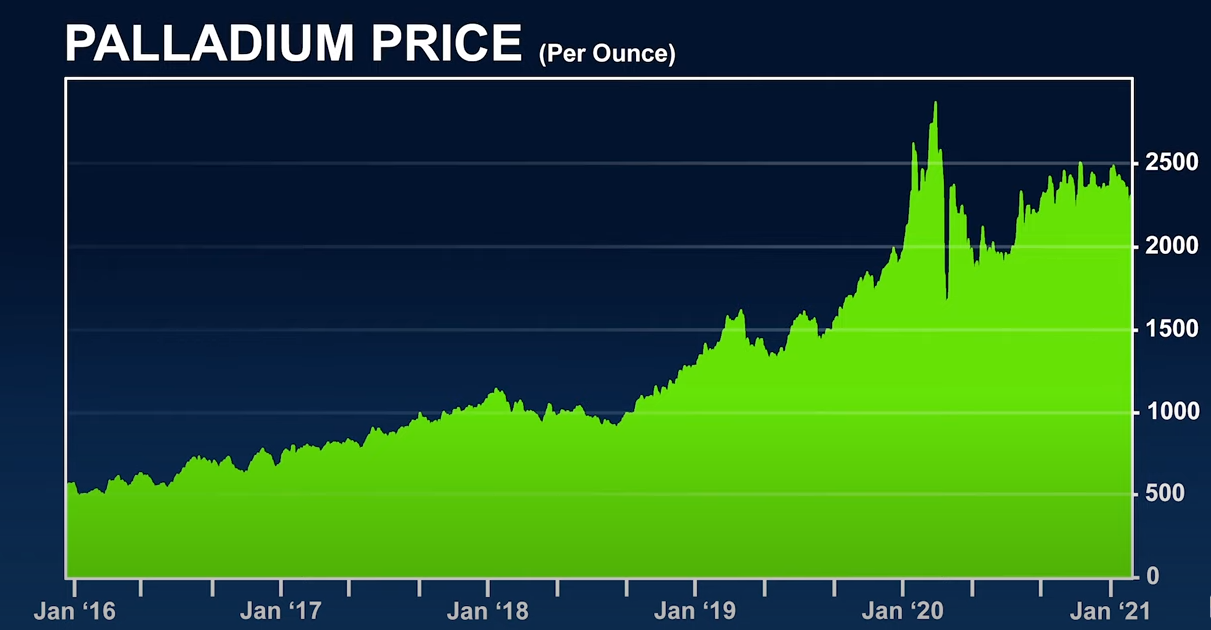 Hunt Brothers Story
Nelson Hunt, Lamar Hunt, and William Hunt, the sons of Texas oil billionaire Haroldson Lafayette Hunt, had for some time been attempting to corner the market in silver. In 1979, the price for silver (based on the London Fix) jumped from $6.08 per troy ounce ($0.195/g) on January 1, 1979, to a record high of $49.45 per troy ounce ($1.590/g) on January 18, 1980, an increase of 713%. The brothers were estimated to hold one-third of the entire world supply of silver.
The situation for other prospective purchasers of silver was so dire that on March 26, 1980, the jeweler Tiffany's took out a full-page ad in The New York Times, condemning the Hunt Brothers and stating "We think it is unconscionable for anyone to hoard several billion, yes billion, dollars' worth of silver and thus drive the price up so high that others must pay artificially high prices for articles made of silver".
On January 7, 1980, in response to the Hunts' accumulation, the exchange rules regarding leverage were changed; COMEX adopted "Silver Rule 7", which placed heavy restrictions on the purchase of commodities on margin. The Hunt brothers had borrowed heavily to finance their purchases, and, as the price began to fall again, dropping over 50% in just four days, they were unable to meet their obligations, causing panic in the markets.
Social Investing
Millennials 72 million vs Baby Boomers 71 million.
Millennials will be 75% workforce in a few years.
Social investing:
@ Wallstreetbets, a popular Reddit forum. Famous for GME short squeeze
@ Youtube chats:
* I'm sitting on 200oz of silver.  Will pass it to my grandkids.  I don't even have kids yet.
* We had so many newbies walk into our shop today to buy silver. The word is out!
* Silver is going to be more needed for green tech. They see it as a good future investment.
* Regardless Silver is good to have with all this money printing. With Agenda 21 on the way, Silver will be scarce.
* I am in my thirties and I have interactions with friends and colleagues from the early 20s up through the late 40s and I tell all of them to buy as much physical silver (90%, bars, and rounds).
* This is going global, foreign markets are catching onto this as well.
* Shorts on silver in the Comex, where futures contracts represent 250x of annual silver production.
Social Investing may succeed where the Hunt brothers fail:
Everyone owns a piece of physical Silver or a share of paper Silver.
Hyperinflation
Bitcoin mania
Silver: whole year's production is only 20B dollars (25,000 tons)
How to invest in Silver
Silver Bars and Silver Coins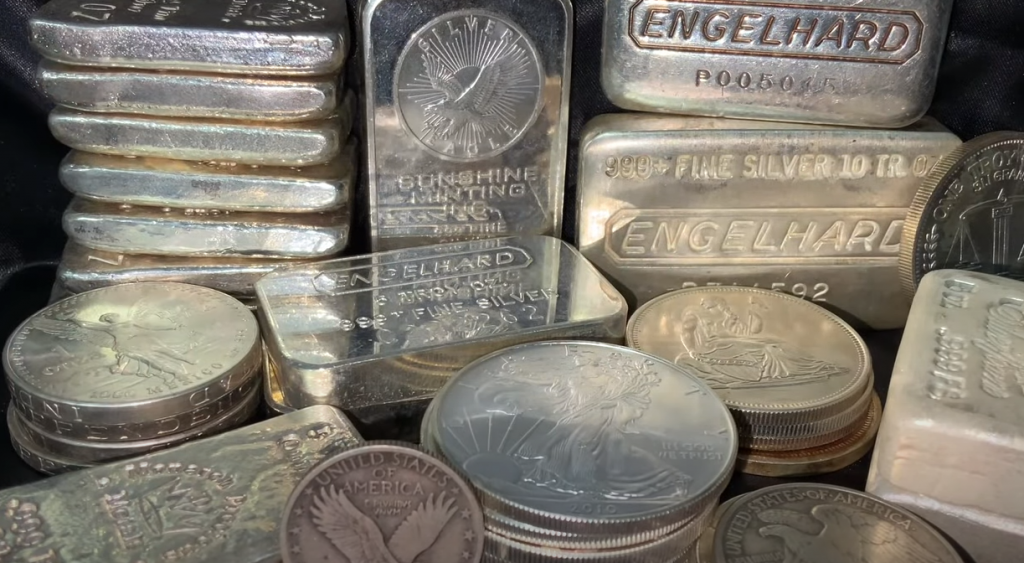 How to Invest in Silver
SLV: iShares Silver Trust ETF
The iShares Silver Trust (SLV) is an exchange-traded fund (ETF) that tracks the price performance of the underlying holdings in the London Silver Fix Price. The holdings of the fund represent silver, with the objectives to diversify one's portfolio and protect against inflation.
The assets of the iShares Silver Trust consist primarily of silver held by JPMorgan Chase (JPM), the custodian institution, on behalf of the fund. The iShares Silver Trust is passively managed as it does not buy or sell silver to take advantage of market-price swings.
The iShares Silver Trust is one of the ETFs administered by BlackRock. Each share of the fund represents a fractional undivided beneficial interest in the net assets of the iShares Silver Trust. SLV has a relatively low annual expense ratio of 0.5% when compared to its ETF peers from the precious metals sector. Brokerage costs for the fund to buy and sell shares are not part of the expense ratio. As SLV is an ETF, it has no front-end or back-end load. The shares of SLV are traded on the New York Stock Exchange Arca, and investors can purchase them like any other stock.
Silver ETF: SLV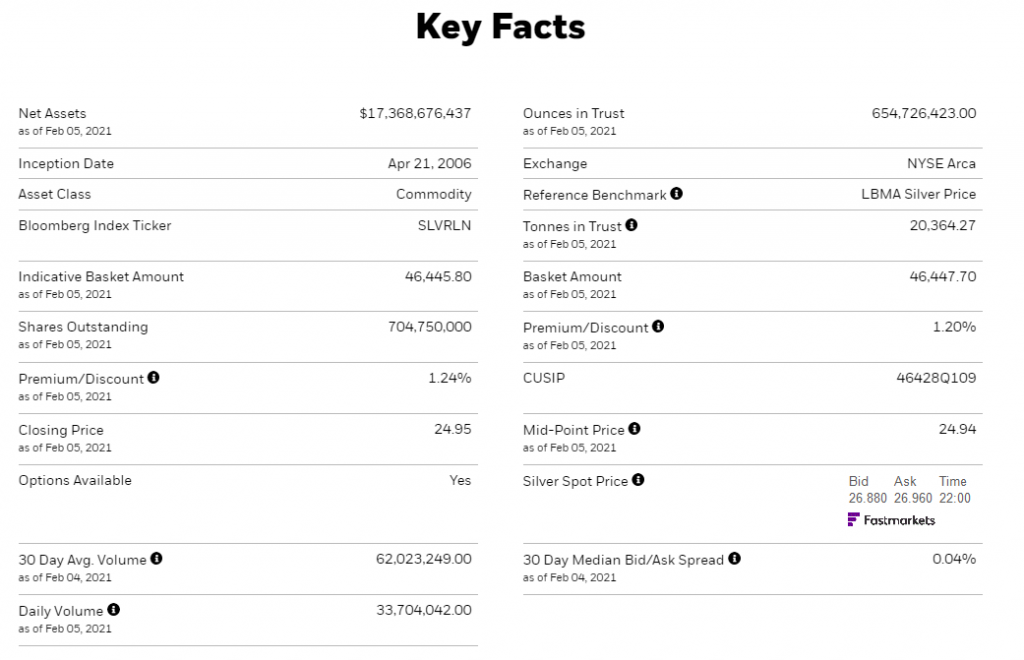 Monthly Income with SLV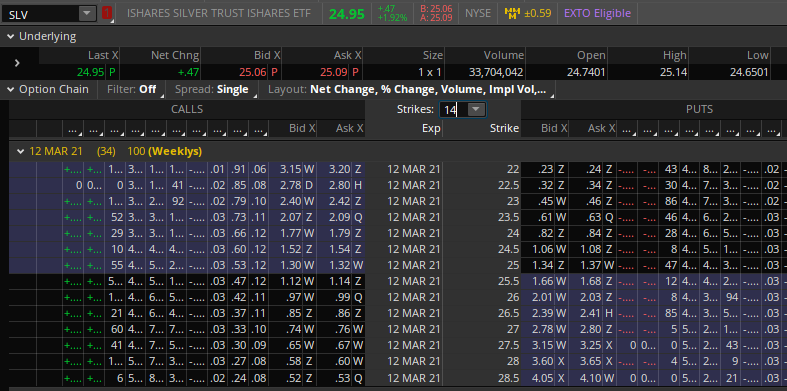 We can use Sell Covered Call to generate monthly or weekly incomes from our SLV holdings.
Silver Investment Risks
The US Dollar may increase its value. DXY = U.S. Dollar Index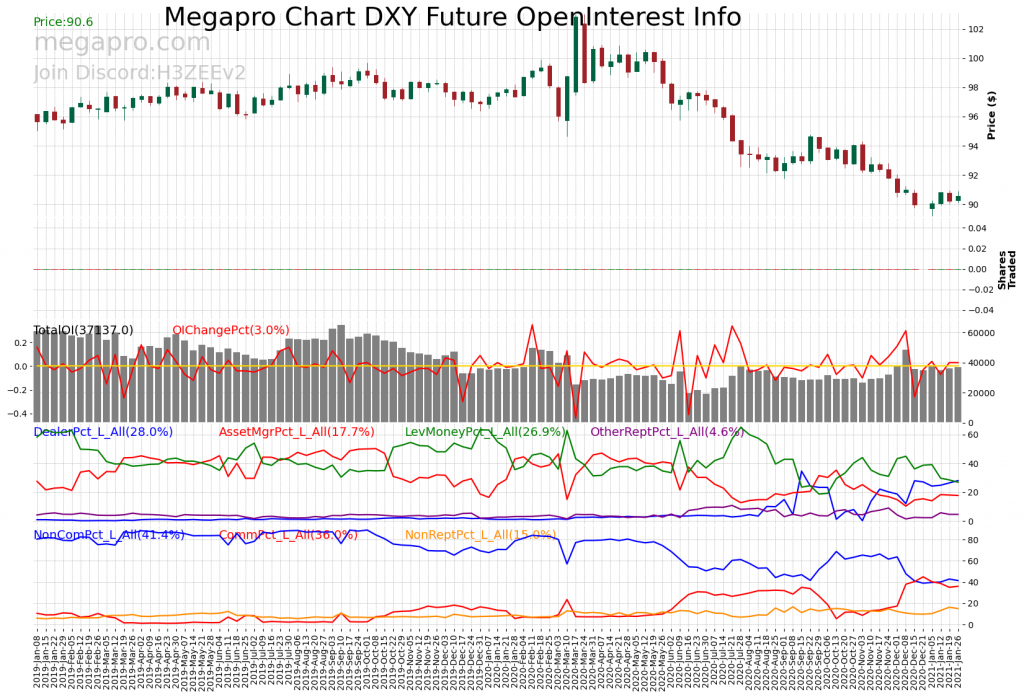 JP Morgan "Spoofing" Trades
SEP 29 2020:
J.P. Morgan Chase has quietly settled a long-running lawsuit that accused the bank of manipulating precious metals markets with "spoofing" trades.
And the bank is set to pay $920 million to resolve government investigations for similar alleged conduct in the precious metals and Treasury
futures markets, CNBC has learned.
A penalty of that size would be a record for spoofing, which is the act
of placing a buy or sell order with no intention to actually execute the transaction.
The goal of spoofing is to move market prices in a way that financially
benefits the trader's preexisting positions in the market.
Spoofing was banned as part of the Dodd-Frank financial reform law after the 2008 financial crisis. In recent years, regulators and federal prosecutors have cracked down on suspected spoofing, issuing fines, or filing
criminal charges in a number of cases.
SLV ETF Bar List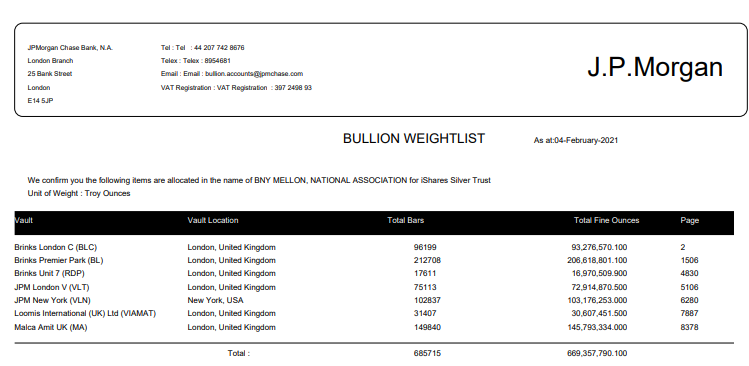 SLV Top Holders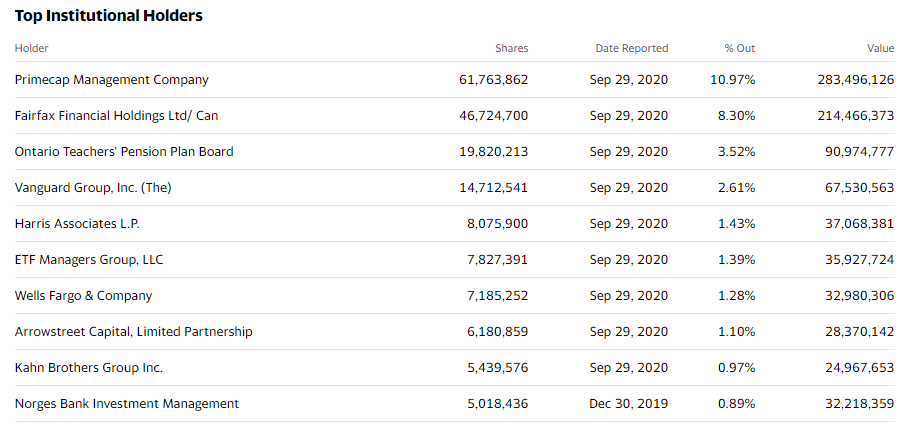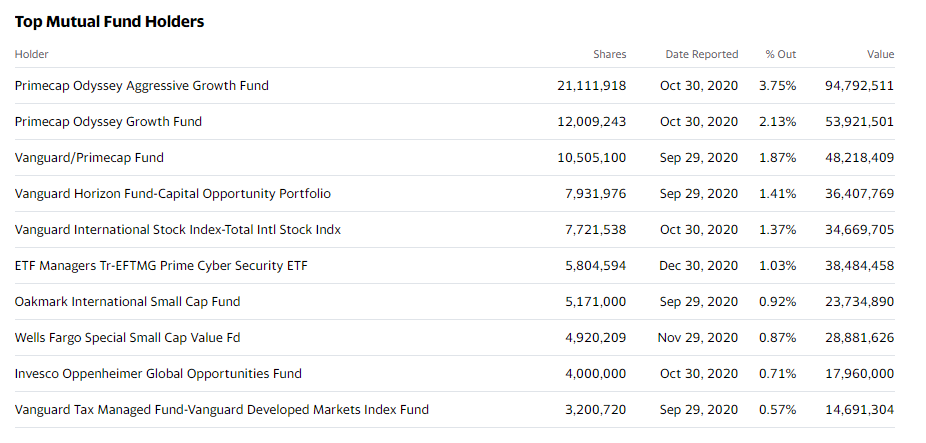 Market Risks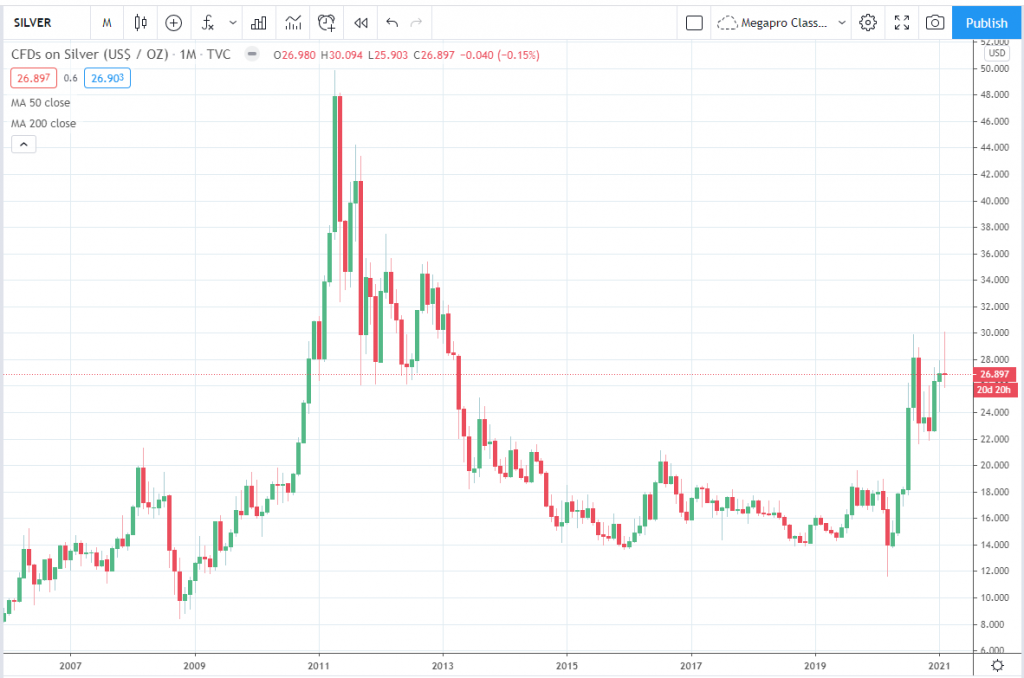 Monitor Silver Investment
Silver is traded in:
Stock Market;
Options Market;
Futures Market;
We monitor silver investment for trading signals in all these three markets. We also use our Six-A signals for silver investment.
Megapro Six-A System 
We pioneered the Six-A investment system.
We analyze the financial market from six diversified areas and use the Six-A data to generate trading picks and trading signals.
* TA = Technical Analysis
* MA = Money Flow Analysis
* EA = Event Analysis
* PA = Political/Policy Analysis
* FA = Fundamental Analysis
* SA = Sentiment Analysis
---